Tioman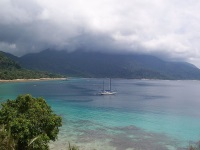 Tioman Island © Ferrazo
Tioman (known locally as Pulau Tioman) is a magnificent, ecologically rich and picturesque island. The 24 mile (39km) stretch of land shelters dense jungles flourishing between mountain peaks. Descriptive appellations, like Dragon-Horn Hill and Lizard Village, are inspired by the tropical charm of the island and its legendary namesake, a fairy-tale dragon princess.
Tioman Island was aptly chosen as the location for the mythical Bali Hai in the film South Pacific. Pristine beaches hug the island's perimeter, lapped by the clear water that reveals luminous coral reefs and abundant marine life. The settlements of the island comprise a handful of villages located around the coast, while the hilly inland area is virgin forest, best explored along the famous Cross-Island walk. While on holiday on Tioman, scuba diving and snorkelling equipment can be hired, and PADI diving courses are offered in Salang and Air Batang.
June to August is high-season on Tioman; November to January is monsoon season (the island is almost deserted over this period). There are daily flights to Tioman Island from Singapore and Kuala Lumpur. The main departure point for boats is from the coastal town of Mersing, with the journey taking one to two hours. There is also a daily high-speed catamaran service between Singapore and Tioman - a four and a half hour trip.