Pongara National Park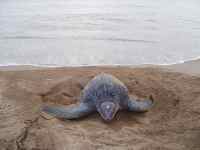 The stunning Pongara National Park includes the popular weekend getaway of Pointe Denis, but extends far beyond the beaches frequented by tourists to cover an area of more than 577 square miles (929 sq km) of savannah and forest. Although the pristine coastline is a major draw, the reserve also has plentiful wildlife including elephant, buffalo, monkeys, lots of birdlife, humpback whales off the coast, and, most famously, leatherback turtles. Nyonie Camp, south of Pointe Denis, is a rustic and friendly place to stay to experience the beauty of the national park and go on forest treks to seek out animals. July to September is whale season, when humpback whales mate off the coast of Gabon, and during this period whale-watching expeditions can be organised.
The most incredible thing to do in the Pongara National Park, however, is to witness the baby turtles being born in December and January. The reserve is a breeding ground for leatherback turtles, which are an endangered species and a real privilege to encounter in the wild. La Maringa, located in Pointe Denis, has a research centre and museum dedicated to turtle conservation and in season it is possible to go on nighttime tours of the nesting grounds to watch the babies hatching and making their way down to the sea. This profound experience is one of the primary things that attracts tourists to Gabon.