Zakouma National Park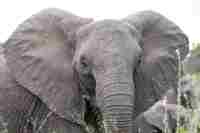 Zakouma National Park is located between Sarh and Am Timan, in the south of Chad; it is a large park, surrounded by the vast Bahr Salamat Faunal Reserve, and one of the most remarkable wildlife strongholds remaining in Central Africa. The park should be Chad's greatest tourist attraction but the country attracts so few visitors that it is not nearly as well-known as one might expect. Zakouma's wildlife was ravaged by the civil war and extensive poaching but the European Union has for many years been collaborating with the Chadian government to restock and protect the area for the sake of conserving animal populations but also with an eye to attracting international visitors. The reserve is one of the great success stories of Central African conservation and today there is a great variety of wildlife to attract tourists: elephants, buffalo, warthog, giraffes, wildebeests, lions, monkeys and many species of bird and antelope can be seen in the beautiful landscape. The terrain is flat and semi-arid, crisscrossed by seasonal watercourses, and well-suited for game viewing. A massive effort is going into protecting the elephant population of the park, after their numbers were decimated by poaching between 2006 and 2009, and the big herds are now protected by armed guards.
The best time to visit the park is in March and April. Zakouma National Park is impossible to visit during the rainy season (June to October) because the roads are impassable and much of the landscape flooded. Getting to the park can be difficult at any time of year and is best organised through professional tour operators in N'Djamena.