Limbe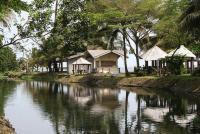 Limbe, Cameroon © Borigue
A popular tourist haunt, Limbe is a gorgeous seaside city located on Cameroon's west coast. Set within a beautiful bay, against the backdrop of an imposing mountain range, Limbe was an important port city in colonial times and retains vestiges of this history, most notably in the form of a magnificent German-built Bismarck Tower overlooking Down Beach.
Down Beach, with its black sand and warm sea temperatures, is a favourite place for tourists to kick back and relax, while the nearby Limbe Wildlife Centre and Botanical Gardens are also worthwhile day trips. The tourism infrastructure is comparatively good in this little city and the people are friendly and interesting.
Limbe is said to boast the best nightlife of any Cameroonian city and tourists are sure to find it a fun-filled city as well as a relaxing stopover on their great African adventure; it is also a good base for excursions out into some of the country's wilderness areas, including Mount Cameroon, which looms above the city.
Limbe is about 190 miles (300km) west of Yaounde, on the N3 national road, and only 33 miles (53km) from Douala. It is generally considered the best Cameroonian city for tourists to visit and is certainly the most popular.