Yaounde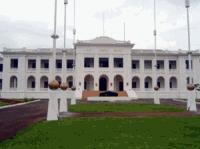 National Museum in Yaounde © Borigue
The capital of Cameroon and the second largest city in the country, after the port city of Douala, Yaounde is situated almost in the centre of the country, and is well positioned as a travel hub. It was founded in 1888 by German traders and later occupied by Belgian troops during World War I, after which it became the capital of French Cameroon.
The city remains the administrative, if not the commercial, hub of Cameroon, and the most popular city with tourists. It enjoys a higher standard of living and security than the rest of the country and has a number of decent hotels and restaurants as well as some interesting landmarks and tourist attractions.
Those interested in churches should visit the Cathedrale Notre Dame des Victoires, and the beautiful Basilique Marie-Reine-des-Apotres, said to be built on the site of the first missionary church in Cameroon.
The city has a wonderful art museum, the Musee d'Art Camerounais, which is housed in a former Benedictine monastery and showcases a valuable collection of masks, bronzes, and pottery. The National Museum is less impressive and rather small and neglected, although it is housed in the old presidential palace. The Mvog-Betsi Zoo is one of the better zoos in West and Central Africa and visitors can see gorillas, chimpanzees, lions, snakes, and a number of other animals that have been rescued from poachers.
Those keen to shop should try the Mfoundi and Mokolo markets and the Centre Artisanal, a government-owned craft market which boasts some wonderful wares but tends to be expensive. Yaounde has an international airport and is linked by rail to Douala and N'Gaoundere to the north. There are also a number of bus companies operating in the city and linking it to other destinations in Cameroon.