Mount Nyiragongo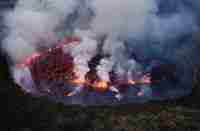 Lava lake at Mount Nyiragongo © Cai Tjeenk Willink
Mount Nyiragongo is an active volcano in the Virunga National Park, about 12 miles (20km) north of Goma. The main crater contains a boiling lava lake which is one of the Congo's most mesmerising attractions, if you have the courage and stamina to reach it. Details on volcanic activity are a bit sketchy due to the long-term chaos in the Democratic Republic of Congo, but the volcano has erupted at least 34 times since 1882.
In 1977 lava breached the crater walls and flowed down the slopes at a frightening speed destroying villages and killing at least 70 people. Again, in 2002, there was a serious eruption which killed 147 and did massive damage to property in Goma, despite the evacuation beforehand of hundreds of thousands of residents.
Nyiragongo is an extremely dangerous volcano, mainly because the speed with which the liquid lava moves makes it almost impossible to escape without warning. Currently the volcano is active, but the activity is confined to the lava lake in the crater; usually eruptions are preceded by months of increased seismic activity and warnings should be issued well in advance as the volcano is under constant supervision. Travellers hoping to climb the mountain should keep a wary eye on volcanic activity in the region and consult local experts before embarking.
The hike up Mount Nyiragongo begins in Goma and is guided by armed park rangers, with porters to carry provisions. Most people prefer to stay overnight on the mountain, in the newly built cabins just beyond the crater rim. Staying overnight allows you to see the dramatic red glow of the lava in the darkness and it is a magical experience.
The landscape becomes increasingly otherworldly and the terrain increasingly challenging as you progress higher up the mountain and it is not an easy hike. The trek to the top takes about five hours but the going is tough. Thermals and waterproof gear are a good idea no matter what time of year you attempt the trek, as it can get cold and rainy on the mountain in any season.
Website: https://virunga.org/