Beira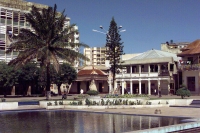 Beira © Atamari
Situated in the central region of Sofala Province, Beira is the second largest city in Mozambique. It is home to the Port of Beira, acting as a gateway for the central interior portion of the country and the landlocked nations of Zimbabwe, Zambia, and Malawi.
The Portuguese Mozambique Company originally established Beira in the late 19th century, with the Portuguese colonial government developing it further from 1947 until 1975. After gaining independence, Beira still sports aspects of colonial architecture but has deteriorated in some areas.
Beira has a few interesting sights, including the Cathedral of Beira and the Fort of San Gaetano. Many of the shops, restaurants, and facilities in Beira cluster around the Praça do Município and Praça do Metical squares in the centre of town.
There are some charming houses along the Ponta Gêa and the port, including the Casa Infante de Sagres. Macuti Beach, with its iconic lighthouse, is easily the most fashionable part of Beira, though many parts are in need of repair. Savanna Beach is 16 miles (25km) out of town and you have to take a little boat across to the beach.
The water is cleaner than in Beira and it's a great spot for fishing. About 8 miles (12km) out of Beira, between Macuti and the airport, Rio Maria is set between the sea and a lovely river. There are no facilities there but it is a very relaxing spot.