Swakopmund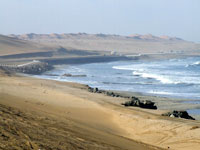 Swakopmund coastline © Judith Duk
Swakopmund is an enchanting little seaside town in the middle of the Namib Desert, growing around what was once the main harbour of German South West Africa. It has many German colonial buildings and a distinctly German character.
The region's food specialities include rock lobster, fish, and Swakopmund oysters. But Namibians also enjoy their German fare, with sausages and pastries predictably popular. Naturally, German is widely spoken among the residents of Swakopmund.
There is plenty of great accommodation in the town, with locals and tourists alike contributing to its burgeoning reputation as something of a beach resort. Called the Mole, the main beach area can become quite crowded on weekends.
Swakopmund is known as a paradise for extreme sports, and popular activities include sand boarding, paragliding, dune carting, hot air ballooning, shark fishing, and quad biking. The stretch of coast is also famous for its beach angling.
Visitors who aren't looking for death-defying activities will enjoy attractions in Swakopmund like the Cape Cross Seal Colony, the National Marine Aquarium, and the Rossmund Desert Golf Course, one of only five all-grass desert golf courses in the world.