National Botanic Garden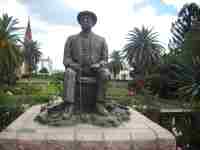 National Botanic Gradens, Windhoek © Thomas.macmillan
The National Botanic Garden of Namibia is a 12 hectare nature reserve in the heart of Windhoek, where tourists can hike, picnic and learn about the country's fascinating plant life. The gardens were initially developed in the early 1970s, when a number of walking trails and a dam were constructed, but the small nature reserve was only opened to the public as a botanic garden in the 1990s. It is an educational and recreational facility open for free to locals and foreign visitors. Much of the garden has not been landscaped, which allows people to explore the environment in its wild, natural state.
The gardens are great for bird watching, and lists of the plants and birds found in the reserve are available at reception. Guided walks are also available on request, but should be booked in advance. Picnics are only allowed in designated picnic areas and visitors must bring their own food as there is no shop or restaurant. The gardens can get very dry in winter, between June and September, and are at their most splendid when the plants are lush and in bloom during the rainy season, which is the best time to visit. The Desert House in the gardens displays some fascinating desert flora year-round.
Website: www.nbri.org.na/?id=51
Opening times: Monday to Friday: 8am to 5pm. First Saturday of every month: 8am to 11am.