Olympia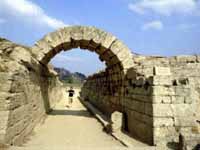 Among shady pine, olive and oak trees, in a valley between Mount Kronos and the Alfios River on the Peloponnese Peninsula, lies one of the most famous historical and archaeological sites in Greece. Olympia includes the remains of two ancient temples and the stadium where the first Olympic Games took place in 776 BC. Since the modern Olympics were inaugurated in 1896 torchbearers have set out from Olympia to carry the Olympic flame in relays across the world to wherever the games are held every four years. The site also boasts one of the finest archaeological museums in Greece. The ruins themselves are fascinating, being the remnants of an ancient Olympic village including a gymnasium, baths, the Prytaneion - where winners were honoured - and a Doric Temple dedicated to Hera. In the nearby modern village of Olympia there is another museum that is often sadly overlooked: the Museum of the Olympic Games contains some interesting memorabilia from games past and gives those interested in the event a fantastic overview of its history and significance.
Telephone: +30 26240 22 529
Opening times: Monday 10.30am to 5pm, Tuesday to Sunday 8.30am to 5pm.
Admission: Archaeological site of Olympia: €6 (adults), €3 (concessions). Combined ticket for museum and site: €9 (adults), €5 (concessions).