Bohol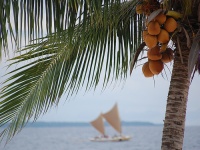 Coconuts on Bohol © georgeparrilla
The island province of Bohol is one of the loveliest in the Visayas group, and lies southeast of the city of Cebu. It has plenty to offer in the form of historical and natural attractions: the world's rarest seashells, like the Gloria Maris and the Golden Cowrie, can be found here; the tarsier, a huge-eyed, insect-eating monkey which, when fully grown, is smaller than a child's fist, can be found on the island; and the world-famous Chocolate Hills, a surreal series of 1,768 hills that resemble scoops of chocolate ice cream, are Bohol's greatest natural attraction.
The Chocolate Hills were formed many millennia ago, from the weathering of coral deposits when the land was still beneath the sea, and can be viewed from an observation deck. Historically, Bohol laboured under 302 years of Spanish rule after the local chieftain signed a 'blood contract', and many buildings, particularly beautiful churches, remain as testimony to the period of colonial rule and the struggle to be free of domination.
Bohol is a resort island with some beautiful beaches and famously good scuba diving sites, with Panglao Island, close to the capital, Tagbilaran, frequently gracing lists of the top ten diving destinations in the world. Bohol is one of the most popular tourist destinations in the Philippines.