Boracay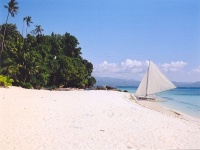 Boracay beach © Magalhães
The tiny butterfly-shaped island of Boracay in the western Visayas has been 'discovered' by trendy international sun-lovers, and has become the Philippines' most popular beach destination. Thousands have sung the praises of the white, talcum powder-fine sand on a two-mile (4km) stretch of palm-studded beach, that is said to glow at night, while the crystalline sea reflects the colour of the unblemished blue sky.
Despite its popularity Boracay remains unspoilt, offering a range of about 350 hotels and guesthouses, nightlife, good restaurants and a huge array of water sports. The island's dress code is barefoot and informal, and the transitory holiday population is truly international. The island has won multiple awards and is lauded as one of the best beach resort destinations in the world by various travel authorities and magazines.
The main tourist area, White Beach, is on the western side of the island and the best time to visit is during the Amihan season, between October and May, when there is little or no rain and the prevailing wind blows from the east, leaving the west of the island calm and sheltered. For those who tire of relaxing on beautiful beaches, activities include scuba diving, snorkelling, windsurfing, kiteboarding and cliff diving.