Tram 28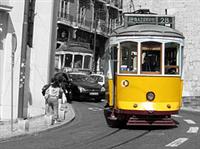 Eléctrico © leoplus
Although holiday itineraries should never be too inflexible or prescriptive, it should be obligatory for all tourists visiting Lisbon to take a ride on the famous Tram 28. These yellow trams, with their polished wooden floors and vintage quality, might be loud and bumpy, having been in operation since 1901, but they also wend through the most historic and most interesting areas of the Portuguese capital city.
A ride on Tram 28 will take you through the neighbourhoods of Graça, Alfama, Baixa, Chiado, and Bairro Alto, where the largest concentration of great sights in Lisbon can be found. Offering a hop-on, hop-off service, you can jump off the tram when something particularly beautiful catches your eye and then resume your characterful journey at your own leisure. A wonderful way to orientate yourself in Lisbon, and the ideal way to get to know the historic city centre, tourists are strongly encouraged to make a ride on Tram 28 one of the very first things they do after arriving in Portugal.
Tram tickets are sold in kiosks all over Lisbon. A 24-hour pass allows visitors to explore the city with maximum flexibility.
Website: www.carris.pt