Espinho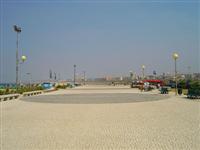 Espinho © Vitor Oliveira
Portugal's northwest coast is known as the Costa Verde (Green Coast) and offers some scenic beaches, albeit with cold Atlantic waters, which make this resort area less popular than the southerly Algarve. However there are several lovely towns worth a weekend trip from Porto.
The main centre on this coast is the fish-canning area turned resort town of Espinho, 11 miles (18km) south of Porto, with a long stretch of golden sandy beach that is popular with surfers, a casino and a bullfight ring, as well as a range of shops, restaurants, hotels and campsites. As with many seaside Portuguese towns, there are any number of excellent seafood restaurants available. The town also boasts one of the oldest golf courses in the world, dating from 1890, an impressive holiday attraction. The Monday market is a popular draw, occupying three city streets with stalls selling local food, crafts, souvenirs and other items.
Espinho is easily navigable, with many of its chief attractions located within easy walking distance of the train station downtown. These include local museums, a planetarium, music academy, and the João de Deus city park. Adventurous visitors can even hire a light aircraft at the Aero Clube da Costa Verde for a birds-eye view of Espinho and the scenic coastline. Espinho also hosts an international animated film festival and a music festival each year.