Nicaragua's Volcanoes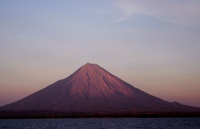 Nicaraguan Volcano © jjbulley
No trip to Nicaragua is complete without a hike up at least one of the country's many volcanoes. Nicaragua is home to a remarkable string running from the southern mountains around Lake Nicaragua up to the impressive northern Cosiguina Volcano, towering over the Gulf of Fonseca.
Many of the Nicaraguan volcanoes are dormant. But since some remain active, it is advisable to hike the volcanoes with a guide or local tour group. Some of the more popular volcanoes include Maderas, Concepcion, Zapatera, Mombacho, Laguna de Apoyo, Masaya, Apoyeque, Momotombo, Cerro Negro, Telica, San Cristobal, and Cosiguina.
Maderas, Concepcion, and Zapatera rise up out of Lake Nicaragua. Zapatera stands alone while Maderas and Concepcion are located on Ometepe Island, popular climbing choices for visitors. Concepcion is an active volcano, but Maderas is dormant.
Zapatera is not popular among tourists as it is difficult to reach and the volcano itself is both extinct and relatively small at 2,063 feet (629m). Mombacho Volcano lies on the banks of Lake Nicaragua and is thought to be the source of the lake's islands.
Mombacho is great for hiking and it's even possible to drive to the top. The beautiful Laguna de Apoyo is a tranquil crater lake popular with hikers and swimmers. The western shore of the lake has an active fumarole emitting steam and gas.
Masaya Volcano National Park is a short drive from Managua, with the smoking Masaya Volcano as its principal attraction. A paved road goes up to the crater where visitors can marvel at the white plume of smoke or try to spot the colony of green parakeets living in the crater itself.
Apoyeque Volcano is also a quick trip from Managua. This volcano is extinct and water fills the crater, with visitors able to take in the spectacular surrounding scenery or cool off with a swim in the crystal clear waters of the volcano.
Momotombo is the quintessential cone-shaped volcano. It is active and last erupted in 2015, after a century of inactivity. Momotombo is popular with experienced climbers and is visible from Managua, situated more than 60 miles (100km) from the Nicaraguan capital.
The Nicaraguan government uses Momotombo to produce geothermal energy and electricity. Telica Volcano also erupted in 2015, with those who brave the strenuous 8-12 hour hike to its summit will be able to see molten lava glowing at the bottom of the crater.
Cerro Negro Volcano last erupted in 1999 and is the youngest volcano in Central America. It has blackened slopes and is scattered with volcanic rocks. Climbing it can take about an hour and one of Cerro Negro's slopes is used for sand skiing.
The 5,725-foot (1,745m) San Cristobel Volcano is Nicaragua's tallest active volcano. San Cristobel last erupted in 2008 and the entire complex consists of five smaller volcanoes. With steep slopes, it is a challenging climb and spectacular views reward those who make it to the crater.
Lastly, Cosiguina Volcano offers hikers some of the most impressive views and mountain scenery. Travellers reach the crater via a forest hike or drive most of the way up. From the parking area, the hike to the crater is only three hours. The top offers panoramic views of the Gulf of Fonseca, Honduras, and El Salvador.
Hiking in Nicaragua offers spectacular views and impressive landscapes, with awe-inspiring craters and splendid photographic opportunities. It's a rewarding experience for all those who make the effort on their trip to Nicaragua.