Keukenhof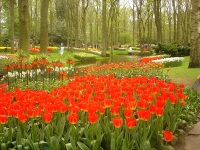 Keukenhof, Amsterdam © Tiago Fioreze
Keukenhof is one of the country's top attractions and the best reason to visit in the spring. The huge garden is home to millions of tulips, daffodils and hyacinths, and is a sea of colour and fragrance. Visitors will also see many works of art scattered among the blooms in this creatively designed site. They can stop for refreshments at one of the area's many cafes and restaurants, and shop at stalls that sell seeds, bulbs, gardening equipment and a range of other souvenirs. Tourists can view demonstrations around flower arranging and the latest trends in gardening as well. Boat and cycling tours are an option; photographers are in for a treat.
Address: Stationsweg 166A, 2161 Am Lisse, Netherlands
Website: www.keukenhof.nl
Telephone: +31 252 465 555
Opening times: Open daily from about 20 March to mid-May annually, between 8am and 7.30pm (ticket office closes at 6pm).
Admission: €17 (adults), €8 (children aged 4 to 17), free for children under 3.