Keukenhof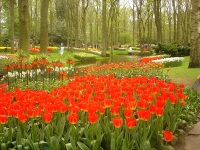 Keukenhof, Amsterdam © Tiago Fioreze
One of the top attractions in the Netherlands, and the best reason to visit in the spring, Keukenhof is one of those magical places that frequently earns itself a spot on lists like 'Places You Have to Go in Your Lifetime'. A huge spring garden that is home to more than seven million tulips, daffodils and hyacinths, Keukenhof is 32 hectares of colour and fragrance. The gardens have been expertly and creatively designed and landscaped, with works of art scattered among the blooms. There are many restaurants and cafes in the grounds for refreshments and shops and stalls selling souvenirs, gardening equipment and seeds and bulbs. There are also numerous pavilions doing demonstrations on things like flower arranging and the latest trends in gardening. The main joy of the place, however, is just getting lost in the wonderland of flowers and taking photographs. Many visitors to the Netherlands expect to see the famous vistas of tulip fields stretching as far as the eye can see; Keukenhof is surrounded by such bulb fields and it is possible to arrange cycling and boat tours from the park to explore these areas. It is best to allow at least a few hours to thoroughly enjoy the area.
Address: Stationsweg 166A, 2161 Am Lisse, Netherlands
Website: www.keukenhof.nl
Telephone: +31 252 465 555
Opening times: Open daily from about 20 March to mid-May annually, between 8am and 7.30pm (ticket office closes at 6pm).
Admission: €16 (adults), €8 (children aged 4 to 11), free for children under 3.