Ancient Corinth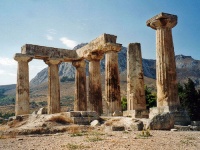 Ancient Corinth © Alun Salt
Ancient Corinth is rests around the base of Acrocorinth. Originally a Greek acropolis, this lofty fortress hill has been a Roman citadel, a Byzantine castle and more over the course of its history.
Most of the city's surviving buildings are Roman, though. Caesar built them after his armies sacked much of the original settlement. Since then, recurring earthquakes have toppled large parts of ancient Corinth. Still, enough of it remains to fire up the imagination. The 6th-century BC Temple of Apollo is particularly beautiful. It sits on a hill overlooking the marketplace's remains.
Visitors will find an archaeological museum in the site's southwest corner. It contains some worthwhile collections of mosaic floors, pottery and works of art.
Website: www.ancientcorinth.net