Ancient Corinth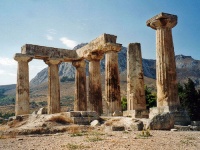 The ruins of ancient Corinth, a short drive from the modern city, are spread around the base of the rock of Acrocorinth, which forms a natural acropolis for the city. Most of the surviving buildings are Roman rather than Greek, dating from the city's prosperous age after Caesar rebuilt much of the original Greek city, Roman armies having sacked it. Unfortunately, much of the city has been toppled by recurring earthquakes over the centuries, but there is still plenty left to fire up the imagination. The ruin that stands out particularly is the beautiful 6th century BC Temple of Apollo, built on a hill overlooking the remains of the Roman marketplace (agora). In the southwest corner of the site is an archaeological museum containing some worthwhile collections of mosaic floors, pottery and works of art. Ancient Corinth was a famously 'wild' and rich city with a reputation for being licentious and a wealthy class (made up of self-made men and women) which amassed some impressive artefacts, some of which can still be appreciated today. The top of Acrocorinth can be reached via a road up the mountainside where the remains of the ancient fortifications can be seen.
Website: www.ancientcorinth.net
Telephone: 274 103 1207 (Museum)
Opening times: Museum: 8.45am to 5pm (winter); 8.45am to 7pm (summer).
Admission: Full admission €6, concessions €3