Richards Bay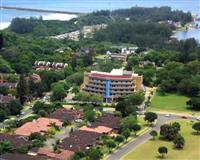 Richards Bay ©
Richards Bay is one of South Africa's biggest ports. Situated on the 12 square mile (30 sq km) lagoon of the Mhlatuze River, it began as a makeshift harbour during the South African War of 1879 and is named after its founder, Sir Frederick Richards. The specialised ships that call are a must-see for maritime buffs. The town is a bustling business centre that features every modern facility and offers plenty of recreational facilities for visitors. Tourism in Richards Bay is thriving and it's fast becoming a popular north coast holiday destination. Visitors will find spectacular scenery, pristine golden beaches and the warm waters of the Indian Ocean. Tourists can also enjoy plenty of adventurous activities such as fishing, kite-surfing, yachting, and kayaking. Humpback dolphins and whales are frequent visitors to the waters around Richards Bay and can be viewed from a specially erected viewing point at Alkantstrand Beach. While the town itself is fairly sleepy, Richards Bay is an entry point to the beautiful and diverse Zululand. Additionally, a multitude of game reserves are within an hour or two's drive of the town. Hluhluwe Umfolozi Park is always a big hit with nature lovers, as it features the Big Five (elephants, lions, leopards, buffalo, and rhinos) as well as cheetahs, wild dogs, and nyala.
Lake Mzingazi is Richards Bay's primary water supply, and a popular tourist attraction. Visitors can view crocodiles and hippos as well as over 350 species of birds.
The surrounds of Richard's Bay have vast expanses of untouched and unspoilt indigenous vegetation, as well as natural lakes and marshes. This makes it one of the most picturesque tourist destinations in the country.