Port St Johns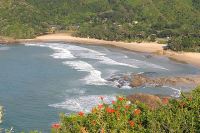 Port St Johns beach © garethphoto
Port St Johns is a good travel base in the Transkei region and is the central tourism hub on the Wild Coast, with lovely beaches, great surfing opportunities, fantastic fishing (deep sea and shore angling), and some fun and atmospheric backpackers lodges for budget travellers.
A town of about 7,000 people, Port St Johns is situated at the mouth of the Umzimvubu River. The estuary is one of the main reasons why this stretch of coast is so picturesque. Sadly, it's also a contributing factor to the frequency of shark attacks on the town's beaches, making swimming and surfing a bit nerve-racking despite the idyllic conditions.
The Umzimvubu River flows through an impressive sandstone gorge named the Gates of St John and visitors should make the effort to drive up to Mount Thesiger, just above the town, to marvel at the stunning views of the estuary. Some of the backpackers and lodges offer the ride up for sundowners free of charge.
Dense, jungle-like vegetation surrounds the town, dotted with scenic walking trails, and the town itself is endearingly laid back and sleepy, with a Xhosa flavour and some basic shops and bohemian-style restaurants.