Nerja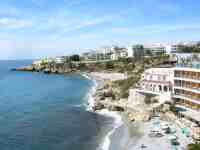 Nerja © Oscarthecat
Nerja is a special Costa del Sol destination for those seeking a more authentic, less commercialised coastal village in the region. Nerja is more quaint and picturesque than many of the popular beach resorts that dot the coastline and is a good place to find charming tapas bars and a great restaurant scene as well as the usual fun in the sun.
The narrow winding streets and many squares are lit up beautifully in the evening, and the town has a romantic atmosphere. The village is nestled among the sandy coves and rugged cliffs where the Sierra de Almijara Mountains meet the sea, and the Balcon de Europa is one of many viewpoints that allows visitors to enjoy spectacular views in and around Nerja. There are more than five miles (9km) of beaches stretching to either side of Nerja, including long, sandy stretches for walking and activities, and tiny secluded coves.
Nerja is the name of the whole municipality as well as the town, and the area boasts some amazing attractions, including the famous caves of the same name, and some impressive Roman remains. Nerja is about 31 miles (50km) east of Malaga, making it a convenient and popular excursion from the city, which is the capital of Andalusia and often the starting point for travels in Costa del Sol.
Website: www.nerjatoday.com/