Gower Peninsula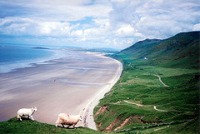 Gower Peninsula © Theodore Scott
This small peninsula on the southern coast of Wales packs a big punch with tourists. Designated an Area of Outstanding Natural Beauty by the UK government, Gower is home to some of the most popular holiday destinations in Wales, including the resort towns of Swansea, Mumbles, Rhossili, and Llangennith. Though it's just 16 by seven miles (26 by 11km) in size, the area has a large concentration of Blue Flag-certified beaches, including Bracelet Bay, Caswell Bay, Langland Bay, Port Eynon, and the Swansea Marina.
One of the best places to stay on the Gower Peninsula is Mumbles, a lovely resort village beautifully located beneath pine-forested slopes overlooking Swansea Bay, which is fast-becoming one of the United Kingdom's favourite seaside getaway destinations. With a history that dates back to the 12th century and a range of excellent seafront pubs and restaurants, Mumbles exudes charm. Mumbles is home to some great cultural sights, such as the ruins of Oystermouth Castle, a historic lighthouse and the pretty Mumbles Pier. Yet, despite these attractions, the real allure of Mumbles remains intangible - something to do with the the sunlight reflected by the bay, illuminating the age-old stone buildings that surround the water, intoxicating visitors with its sheer natural beauty.
The Gower Peninsula also contains a number of historical attractions, including the island of Burry Holms, which has been inhabited since the Iron Age; Cefn Bryn, home to Arthur's Stone; Giant's Grave, a prehistoric burial chamber containing 4,500-year-old skeletons; and the Norman castle ruins at Threecliff Bay. All things considered, the main reason to holiday in Gower is its natural splendour, beyond the beaches and the cities you'll find many miles of pretty walking trails, flowering gardens, scenic vistas, and abundant wildlife.