Dundee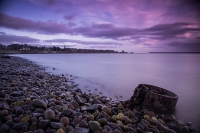 Dundee © Neil Williamson
Scotland's fourth largest city, Dundee is historically famed as the city of 'jam, jute and journalism', as it is the original home of marmalade and also processed the backs of carpets and ship sails (jute), while the Beano and Dandy comic books were first published here. Located on the north bank of the Firth of Tay (the longest river in Britain), the picturesque city of Dundee is centred around an old town and on a clear day boasts breathtaking views over the Tay Estuary and iconic Tay Rail Bridge. Overflowing with cultural attractions, travellers can enjoy finding their own way around as nothing here is particularly structured when it comes to tourism - perfect for independent travellers.
There are no end of things to see and do in Dundee: climb the 232 steps to the highest existing medieval tower in the UK, St Mary's Tower, fondly known as the 'Old Steeple'; have your picture taken with the five bronze penguins around Dundee's City Churches, which look as if they're headed in the direction of the RRS Discovery; visit the century-old Discovery which took Captain Scott to Antarctica; or stroll along the golden beach before heading up to the Broughty Ferry Castle, which was built in 1496 and now houses a museum.
Dundee is renowned nowadays for its universities (University of Dundee and the University of Abertay), medical training grounds, art school, and plethora of pubs to keep the student population happy. The restaurant scene is also worth exploring with plenty of Indio-Pakistani-Chinese flavour, while shopping opportunities abound in the city centre.
Hit the links and play a round of golf on one of the world-class championship golf courses, making sure to sample some of the local brews on the 19th hole, or why not visit the nearby town of St Andrews to see one of the world's most famous courses. Anglers will be able to cast their line from sandy beaches or rocky cliff bottoms to hook sea trout and flatfish, while the Lunan Water and Rescobie Loch are the places to go for top-class brown and rainbow trout fishing.