Lake Mead and Hoover Dam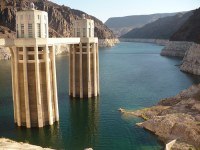 Hoover Dam © Raquel Baranow
The 1.5-million acre Lake Mead Recreation Area was created in 1936 as part of Roosevelt's New Deal programme. A popular excursion from Las Vegas or even Phoenix, Lake Mead is a haven for outdoor recreation like boating, swimming, canoeing, fishing, waterskiing, and even scuba diving. Lake cruises are also a popular activity. Five marinas ring the lake, ranging from small family-owned operations like Hemingway Harbor to large resorts like Forever Resorts at Callville Bay. The rest of the shoreline of Lake Mead is made up of rocky coves and sandy beaches good for sunbathing. Land-based activities like camping and hiking are available in the surrounding area.
The Alan Bible Visitor Center, also known as the Lake Mead Visitor Center, provides information about activities and resources at Lake Mead. There are also some educational exhibits, including a garden of cactus plants native to the Mojave Desert.
Lake Mead is formed by the giant Hoover Dam, a popular tourist attraction. Attracting nearly 3,000 people each day, Hoover Dam is an engineering marvel, standing 726 feet (221m) tall and 1,244 feet (379m) wide. The enormous dam supplies 90 percent of Las Vegas' water, and visitors can take guided tours of the facility.
Website: www.nps.gov/lake/index.htm