Surfing in Oahu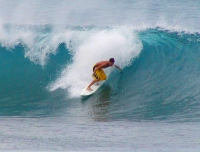 Oahu North Shore Surfer © Stan Shebs
Synonymous with surf, sand and sun, Hawaii is a place where South African and Australian surf legends Shaun Tomson, Mark Richards and Wayne 'Rabbit' Bartholomew pioneered the surfing scene, turning it into the professional sport it is today. Hawaii's surfing beaches are internationally famous, as immortalised in the surfing documentary Riding Giants.
The most famous surfing beach in Hawaii is Oahu's North Shore, featuring the classic point break of Waimea Bay as well as the likes of Waikiki, Off the Wall, Backdoor Pipe, Sunset Beach (known for its big wave surfing) and the notorious Pipeline, a reef break located off Ehukai Beach Park ideal for eager spectators, bikini-clad girlfriends and surf photographers due to its close proximity to the beach.
Oahu's North Shore works best during the winter months when large waves are created by winter storms in the North Pacific, a stark contrast to the clear, calm water during the summer months. Other key spots for surfing in Hawaii include a great point break at Magic Sands Point on Big Island, the reef break of Pine Trees in Kauai, and Maui's Honolua Bay.
Beginners are also catered for with small and easy rollers at places like Waikiki Beach, Chuns Reef, Cockroach Bay and Puena Point, and there are plenty of surf schools and experienced instructors available. The south coast of Kauai is also an excellent surfing spot for beginners, with reliable waves at Poipu and Kalapaki Beach.