Wilmington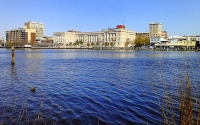 Wilmington seen across Cape Fear River © Jason W. Smith
Wilmington, restored through a massive revitalization effort about 30 years ago, is today as charming and quaint as Southern towns come. Rambling antebellum mansions, rescued from ruin by ardent preservationists and now restored to their former glory, sit back from shady, tree-lined lanes that lead toward the Cape Fear River and Wilmington's historic downtown district.
Here, brick-paved streets overflow with shops offering delectable sweets, stylish and funky clothing as well as resort wear, handmade jewellery and crafts. Locals lounge alongside tourists at sidewalk cafés and coffee shops before taking a stroll on the system of boardwalks and promenades along the Cape Fear River. Dining here is an art, featuring genuine 'barbecue', the noun rather than the verb, meaning pit-cooked pork, with sides of collard greens and hush puppies as well as fine low country cuisine in beautifully restored buildings, where a guest might indulge in an exquisitely presented meal of shrimp and grits. In recent years, this small but picturesque area has earned a major reputation in the film and television industry as the headquarters of EUE Screen Gems Studios and the site of multiple films as well as television hits like Dawson's Creek.
Wilmington's other draw is its Atlantic coastline, which is well worth the drive across town through unremarkable suburbs and sprawling shopping centres. Across a short bridge spanning the Intracoastal Waterway lies the beautiful barrier island of Wrightsville Beach, a breathtakingly lovely hideaway of pastel beach houses raised on high pilings and weathered fishing piers. A handful of upmarket shops, beach gear outfitters and restaurants are the only distractions from the warm blue-green waves dotted with surfers, the boats skimming along the Intracoastal and the endless stretches of sandy beach bordered by dunes and sea oats.
Wrightsville's reputation as a quiet, classy, family destination is carefully guarded. Farther down the peninsula toward the tip of Cape Fear, there are other pretty beaches, like Kure and Carolina, though none with quite the same charm as Wrightsville. However, along the ocean and the myriad inlets and waterways of the Wilmington area, visitors will discover pockets of the quintessential coastal South. The images of oyster gatherers in their wellies, wading in the marshland mud, and of shrimp trawlers against the sunset are not soon forgotten.