Adelaide Botanic Garden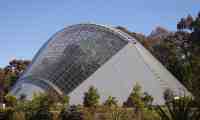 The Adelaide Botanic Garden is one of the top free attractions in the city and a lovely place to unwind and enjoy some of the region's natural beauty. The gardens are easily accessible in the centre of the city and are immaculately maintained. The garden's old trees are one of the highlights, including the Wollemi Pine which dates back to the time of the dinosaurs, and Australia's oldest avenue of Morton Bay Fig trees. Other favourites include the rose garden and the covered rainforest area. The garden is also home to some historic and interesting buildings including three glasshouses: the Palm House, Bicentennial Conservatory and Amazon Waterlily Pavillion. The Santos Museum of Economic Botany teaches visitors about the importance of plants and hosts some fascinating temporary exhibitions.
Those looking for refreshments will find a selection of kiosks and a good restaurant clustered near the lake. The restaurant is a good option for a romantic lunch, with some beautiful views of the garden. The gardens generally receive rave reviews from visitors and provide space for exercise, relaxation and learning.
Address: North Terrace, Adelaide