Thessaloniki Archaeological Museum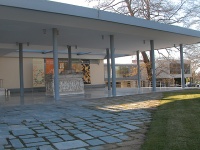 The Thessaloniki Archaeological Museum is regarded as one of the finest museums in Europe; it is near the famous White Tower and opposite the city's international fairgrounds. The museum houses a huge collection including the incredible treasures from the tomb of Alexander the Great's father, Phillip of Macedon, which was discovered at Vergina in 1977. Another treasured artefact is the 3rd century BC Derveni papyrus, the only intact ancient papyrus found in Greece, which was discovered in the tombs of Derveni. Other rooms in the museum contain exhibits depicting the history of the city from prehistoric days through to the Roman period, including spectacular mosaics and some exquisite, delicate Hellenistic glass. The museum will occupy visitors for a few hours if they are interested in history and archaeology and it is a well-organised and impressively laid out collection. If you are planning a visit to Vergina or the Royal Tombs then this wonderful museum is a must because you'll see all the treasures discovered at these remarkable sites. Thessaloniki has a captivating history and it rewards investigation.
Address: Manoli Andronikou 6, Thessaloniki
Website: www.amth.gr
Telephone: 023 108 30538
Opening times: 1 November to 31 March: Monday 10.30am to 5pm; Tuesday to Sunday 8.30am to 3pm. 1 April to 31 October: Monday 13.30pm to 8pm; Tuesday to Sunday 8am to 8pm. Closed over some public holidays.
Admission: €6 (adults), €3 (concessions), €8 (combined ticket for Archaeological Museum and next door Museum of Byzantine Culture), free for under 19s.