Santa Barbara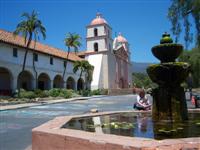 Mission Santa Barbara © tkksummer
Santa Barbara is known as the "American Riviera", thanks to its gorgeous weather, clean air, and beach-centred lifestyle. This attractive and historic coastal town is framed by the Pacific Ocean and San Ynez Mountains, and is located just off Highway 1, 80 miles (120km) north of Los Angeles. Santa Barbara has a character and laid-back energy all of its own, and attracts both wealthy weekenders and tourists seeking respite from the busyness of the larger urban centres to the north and south.
Apart from relaxing on the fabulous beaches, there is plenty else to see and do here. Surrounding the beachfront are several popular bike trails, including local favourite the Cabrillo Beach Boulevard Bike Trail. Santa Barbara Channel is rated one of the world's best land-based whale watching sites, with over 30 different species of whales and dolphin viewable at different times of the year. The scenic waterfront is another major draw card, including Stearns Wharf, the oldest working wharf on the west coast of America. And if all that sightseeing and sun-tanning works up an appetite, don't miss the area's highly regarded Mexican food, which may be complemented by a tasting or two at one of over 100 local wineries.
A tour of the town would ideally start at the beach front, from where State Street stretches into the historical and attractive downtown area. A stroll here will take visitors past charming boutiques, stores and eateries. The Spanish colonial-style buildings of the area reflect its history, although many are modern replicas built after the devastating 1925 earthquake. The surviving Santa Barbara Mission, built in 1786, is a landmark building, known for its twin bell towers and rolling green lawns (picnickers welcome); while the Santa Barbara Courthouse is renowned for its classical, stately proportions.
In many ways, that earthquake was a great boon for the city, which had grown into a dense and unattractive agglomeration of different building styles. Once the dust had settled, city planners were able to restore the red-roofed adobe structures that today grace so many tourist photographs.
Santa Barbara attracts the rich and famous for both vacations and as residents. Oprah Winfrey has a 42-acre estate here, and Jeff Bridges and Jennifer Lopez are in the vicinity. The town is also home to the highly regarded college, University of California at Santa Barbara, and four other colleges, providing a youthful counterpoint to the reclusive celebrities, retirees and yachting crowd that make up the area's tax base.