Cape Town Ostrich Ranch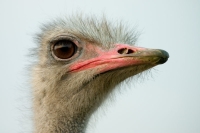 Ostrich Portrait © A. Kniesel
For fun encounters with one of South Africa's oddest and most unique animals, the Cape Town Ostrich Ranch is a great bet. The ranch is a good family attraction, but having kids along is not necessary to enjoy the experience.
Although it is possible to explore independently, most people choose to join one of the organised tours of the ranch, which are conducted in English, Afrikaans, German, and French. Tours in other languages may be possible if organised in advance.
Tours take about 40 minutes and include the museum, the leather factory, and encounters with the various ostriches and other animals on the farm. The highlight for many visitors is the chance to sit astride an ostrich for a photo opportunity with the iconic Table Mountain in the distance. Those wanting to feed the ostriches will be able to buy feed at the ranch.
The restaurant serves up a variety of snacks and meals in a lovely Cape Dutch garden setting, while the shop sells all sorts of ostrich products. A playground and sand pit provide extra entertainment for kids. Children will also love the scratch patch, where they can select a variety of sparkly gemstones.
Address: Van Schoorsdrif Road, Philadelphia, Cape Town
Website: www.ostrichranch.co.za