Krk Island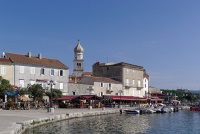 Krk © Berthold Werner
The largest island in the Croation Archipelago, Krk is a haven of sparkling beaches and lovely holiday towns. It enjoys a laid-back Mediterranean atmosphere, with Krk Town being the main tourist hub with its many restaurants, shops and bars found in the Old Town area. Nicknamed the 'Golden Island', getting to Krk from the mainland is made easy by an imposing 4,500 foot (1,4km) bridge.
The best beaches are found in Baska, with more than 30 of them connected by a promenade, while other beach towns on Krk include Njivice and the sandy coastline of Klimno Bay. Vrbnik is home to vineyards that produce some of the best white wines in Croatia, while the folk festival in Dobrinj draws crowds from all over.
Krk Island is popular for weekend excursions from the mainland. Visitors can easily spend a week exploring the winding streets and hidden corners of the island. A haven for watersports, bird watching and hiking, there is lots to see and do on Krk for just about anyone.