Kutna Hora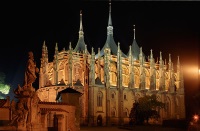 Santa Barbara Church © Jerzy Strzelecki
In the 14th century Kutna Hora was the second biggest town in Bohemia (after Prague) due to the discovery of silver. Today visitors come to appreciate the history of a once booming town where the Royal Mint was founded, and to marvel at the architecture of this UNESCO World Heritage Site. Its greatest monument is the exquisite church of Santa Barbara, built to rival Prague's St Vitus Cathedral. It is a pinnacled Gothic achievement financed by the miners and dedicated to their patron saint, Barbara.
Among the town's many churches and attractions is the Hrádek Mining Museum, popular for its medieval mineshaft tours (not for the claustrophobic or anyone afraid of the dark!). The bizarre but fascinating Gothic ossuary, decorated with the bones of about 40,000 people and arranged into shapes, notably a chandelier, a coat of arms and pyramids, is a macabre but popular attraction.
Although the town is small, there are also a number of shops, cafes, and bars that make it an interesting place to visit. Kutna Hora is only about an hour away from Prague by road and it makes the perfect excursion or weekend away as there is just enough to see in this charming town to captivate visitors for a day or two.