Dive Sites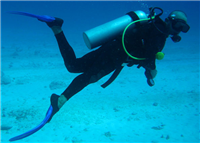 Scuba Diving © Soljaguar
As with all Caribbean destinations, one of the most popular things to do on St Kitts and Nevis is to try your hand at some scuba diving or snorkelling. The calm, clear waters of the Caribbean Sea, not to mention its spectacular coral reef formations and its abundant marine life, make it a wonderful diving and snorkelling destination for beginners and experts alike.
For those new to diving, Monkey Shoals and Friars Bay Reef provide a gentle introduction to the undersea wonders of St Kitts and Nevis, with plenty of reputable diving companies offering full training and guided excursions into the depths.
For intermediate-level divers, Sandy Point (on St Kitts) is a National Marine Park known for its beautiful coral heads and colourful sea life; while those who prefer the excitement of wreck-diving can explore the remains of ships such as River Taw, M.V. Talata and the (quite recently sunk) Corinthian. Experienced divers will enjoy the challenge of Nags Head (known for its strong currents), and Aquarium (famous for its range of tropical fish).