Esbjerg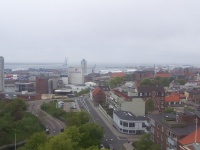 Esbjerg © Chris Nyborg
A great place for a city break, Denmark's fifth largest and youngest city, Esbjerg, is billed as 'the gateway to Jutland', but those who choose not to move beyond the gateway will have plenty to see and do in this neat, clean port city.
Esbjerg grew up around its harbour, which was established by the state in 1868 to serve as a strategic North Sea port. Today it is the centre of Denmark's offshore oil industry, but with its lovely beaches, attractive shops, thriving café society and jolly nightlife it has also become a popular holiday town.
Not surprisingly, most of Esbjerg's tourist attractions are nautical by nature, including a 'sealarium' at the Fisheries and Maritime Museum. A boat trip round the harbour is a must, and for the more active the city offers a wonderful swimming stadium, angling, golf and windsurfing. The best thing about Esbjerg, though, is its proximity to the scenic Jutland Peninsula coastline, with wide windswept sand dunes, and popular family attractions like Legoland at Billund (about an hour's drive away) and the picturesque medieval town of Ribe. Denmark's favourite offshore vacation islands of Romo and Fano are within easy reach by ferry.
As a major educational centre (with two universities and numerous other tertiary learning institutions) Esbjerg also has a full cultural calendar, and art is everywhere, from major galleries to small, private studios. Being a city with a large youthful population, clubs and bars pulse with live music and dancing until dawn.