Bornholm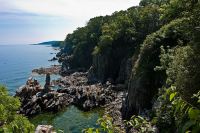 Bornholm © Andreas Lippelt
Sometimes referred to as the 'Pearl of the Baltic', Bornholm is a wildly popular holiday destination in Denmark for tourists from Sweden, Poland and Germany, though it is still largely overlooked by tourists from the US and UK.
The island, located in the Baltic Sea, is geographically closer to Sweden and Poland than the Danish mainland, which gives it a uniquely international environment. Established as an important trading post in the Viking age, Bornholm passed in ownership from country to country for many centuries and was a heavily-contested strategic point in World War II for the Russians and Germans. These days visitors to Bornholm come not to trade or occupy but to enjoy the island's sunny beaches and gorgeous natural environment. Activities like sailing, fishing, camping, hiking, bicycling and just lounging in the sun are popular ways to pass the time. The Almindingen forest is among the largest in Denmark, and Dueodde boasts some of the best sandy beaches in the Baltic.
The numerous small towns on Bornholm hold their own attractions, including the beautiful sunrises and charming winding streets of Gudhjem, the jazz festival at Allinge, and the bustling markets and local beers of Svaneke. The biggest town on Bornholm is Rønne, which is where most ferries disembark, and features pretty 19-century architecture, and a collection of museums, shops and restaurants.
Website: www.visitdenmark.com/bornholm/nature