Odense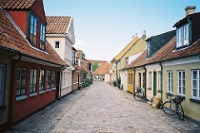 Odense © Nigel Swales
Located on the island of Funen, 60 miles (96km) west of Copenhagen, Odense is Denmark's third largest city and a vibrant centre of commerce and nightlife. In this busy harbour city, the quaint streets of the Old Town offer interesting shops, cafes and restaurants that buzz with activity.
Odense has a long history going back thousands of years, and archaeological finds date back to the Viking era. The city is thought to be a centre of the Odin cult due to its name, which means Odin's Shrine.
The real claim to fame of Odense, and the main attraction for thousands of tourists each year, is that the city was the birthplace of famed storyteller Hans Christian Andersen. The residents of Odense are so proud of their native son that at times it seems hard to find a shop, restaurant or monument dedicated to anyone else. Visitors to Odense can visit the Hans Christian Andersen Museum, which is based in the house he was born in.
There are many other things to see and do in Odense not related to The Little Mermaid or The Ugly Duckling, however. The town has several beautiful castles and cathedrals, and museums dedicated to Danish history and classical composer Carl Nielsen, who was also from Odense. The music and nightlife in the city is among the best in Denmark, with symphonies, theatre, live music and a non-stop parade of outdoor festivities in the idyllic summer months. There is always something happening, and visitors to the city will never be at a loss for things to do.