Deauville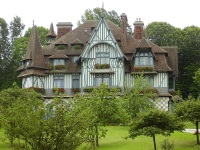 Villa Strassburger © Kamel15
Deauville is the only Norman holiday resort to have any delusions of grandeur. It is at the heart of the Norman Riviera which, in the late 19th century, was a particularly popular holiday destination with elite Parisians.
Deauville is still known as the 'lady' of the French coast, and it was a very fashionable lady, in the form of Coco Chanel, who launched both her own career and the quality status of Deauville as a seaside holiday town when she opened a boutique selling her avante garde pill-box and cloche hats to Edwardian ladies bowed under the weight of huge, elaborate millinery creations. Although the town is overrun with tourists and the Edwardian splendour is fading, some of Chanel's elegance survives in Deauville. Nearby Trouville is a smaller and less glamorous version of Deauville, but is also less touristy.
Deauville hosts numerous events, including regattas and polo tournaments, and offers many holiday diversions in the form of casinos, golf courses and exclusive shops. Horse racing is a popular pastime on the town's two courses, and Deauville also boasts a number of restaurants and a spa. There is a strip of beach, the Plage de Deauville which, on warm days, is packed with sunseekers.