Punta del Este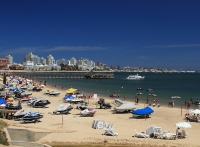 Punta del Este © Gabriel Millos
Glitzy and vivacious, the Punta del Este holiday resort is known as the 'jewel of Uruguay', the favoured vacation station for upper-class South Americans and increasingly on the radar of international jetsetters. Punta del Este lies at the southern tip of Uruguay, about 87 miles (140km) from Montevideo, covering a spit of land extending into the Atlantic Ocean from the mouth of the Rio del la Plata, lined with 20 miles (32km) of pristine, sandy beaches.
The resort town bristles with luxury hotels, holiday condominiums, restaurants, hot night spots and sophisticated shops. These, together with a casino, bustling yacht marinas and an array of natural attractions, draw thousands of visitors during the summer holiday season, which extends from December to March. Out of season many of the Punta del Este restaurants and shops close and it becomes more like a sleepy coastal town, but the temperate climate still offers the chance to make the most of the less crowded beaches.
Punta del Este offers a laid-back holiday lifestyle, with most of the tourists not emerging before noon and dining at around 10pm, after watching a splendid sunset. Discos and nightclubs then keep up the action until dawn, when weary sun-bronzed revellers creep to their beds.