Koh Samet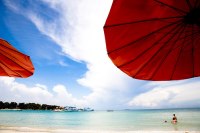 The T-shaped island of Koh Samet is within easy distance of mainland Thailand, and at only 124 miles (200km) from Bangkok a great weekend excursion to get out of the city. A popular island for both foreigners and locals on holiday in Thailand, Koh Samet is a small island known for its white sandy beaches and crystal-clear waters.
Koh Samet has just one (rather bumpy) main road, and getting around the island is accomplished either by songthaew (a pick-up truck-style taxi), or by hiring a motorcycle or ATV. This way tourists can visit the stunning beaches on Koh Samet, including the busy Hat Sai Kaew, quiet Ao Hin Khok, and romantic Ao Wai.
Most of the activity is centred on Hat Sai Kaew, where holidaymakers can enjoy activities like swimming, windsurfing, jet-skiing, yachting or just sunbathing. There are also nightly fire-twirling shows at 6pm and 10:30pm. The tourist centre of Koh Samet, tourists can also enjoy excellent Thai seafood restaurants and lively bars, and take classes in Muay Thai boxing or fire-spinning.
Website: www.kosamet.net