The White Tower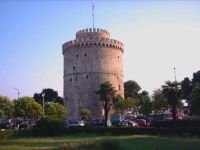 The city of Thessaloniki's most famous landmark, the White Tower was originally built as part of the city walls to fortify the coast during Ottoman rule. It now stands, no longer quite white but still very imposing, on the seaside promenade south of the Archaeological Museum, having been restored and offering panoramic views of the city and harbour from its rooftop café. Although now a proud landmark for the city and its inhabitants, and their chosen symbol, the tower has a bloody history. It was used by the Ottomans as a prison, infamous for its brutality, and was the site for public executions; on the way up the winding staircase to the cafe visitors can peep into the dim rooms that were once used as cells. As a result of this notoriety as a brutal place it was known as the 'Tower of Blood' or the 'Red Tower' to local Greeks up until the end of the 19th century. When Thessaloniki was reclaimed by the Greeks the tower was whitewashed as a gesture of symbolic cleansing and it has since been re-imagined in the collective imagination as a positive symbol of freedom and pride. The tower contains a museum housing some Byzantine art and historical artefacts from Thessaloniki's history between 300 and 1,500 AD.
Telephone: (031) 267 832
Opening times: Tuesday to Sunday 8.30am to 3pm.