Lake Tanganyika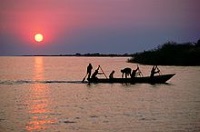 Lake Tanganyika © Worldtraveller
Lake Tanganyika is regarded as the second largest and second deepest freshwater lake in the world after Siberia's Lake Baikal. Situated amid the natural beauties of the Great Rift Valley of Africa, it flows from the Congo River to the Atlantic Ocean.
Spread over a massive area of 12,700 square miles (32,900 square km), Lake Tanganyika is encompassed by high mountains from all sides with Burundi, Tanzania, Democratic Republic of Congo, and Zambia all enjoying ownership of the lake.
With an average width of 30 miles (50 km), it has ample opportunities for water sports activities. Diving, snorkelling, swimming, and fishing are various types of activities which can be enjoyed in Lake Tanganyika, and in many areas fossils of rare species of fish and aquatic animals are found.
But if all else fails, enjoying a sundowner cocktail over the beautiful blue waters of this vast lake will never be a let-down for any visitor, as they soak in this amazing natural spectacle. Transportation facilities to Lake Tanganyika are with ferries operating between Kigoma and Bujumbura.