Kagera Falls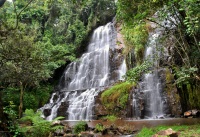 Kegera Falls © Kiki and Johannes
The Chutes de la Kagera (Kagera Falls) are a spectacular series of waterfalls in southeastern Burundi, located to the south of Rutana within the Mpinga National Park. The falls occupy over 142 hectares, being made up of six branches divided on three landings.
On the first level is a main fall subdivided into two parallel branches of a length estimated at about 260 feet (80m), pouring into a basin below. The several waterfalls of different sizes are intersected with two platforms, and another smaller waterfall is located roughly 160 feet (50m) to the west of this main fall.
Waters of these two falls converge on a second landing to form the third waterfall which pours on the valley below. Visitors to the falls should make sure to bring their cameras, as this natural spectacle is a once in a lifetime photo opportunity in the deep jungles of Burundi.
To get there you will have to charter a taxi or drive yourself as there is no public transport to the falls. But arranging a guided tour is most practical, as the waterfall may not be easily found by those unfamiliar with the area.