Faial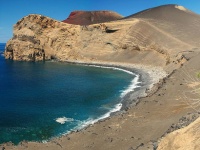 Faial © trebol-a
Faial is the resort island of the Azores most recommended by travel agents for a holiday, because of its central position in the archipelago. Its coast is indented with sheltered bays and it has an immense volcanic crater carpeted with striking greenery.
Much of the interior of the island is given to a nature reserve of about 11.5 square miles (30 square km). Here, visitors can enjoy the diverse flora and fauna of the pristine wilderness accompanied by local guides. While Faial's economy historically relied on whaling, sustainability is today an important part of tourism.
Faial's main town, Horta, has a large marina that is a favoured stopping point for yachtsmen, and the harbour also occasionally accommodates cruise liners. Horta and other villages have a number of pretty churches, chapels, towers and forts, and a lively small-town atmosphere. Of interest to sightseers is the new section of land, covering an area of approximately one mile (two km), added to the island in the most recent volcanic eruption of 1957.
While most islands in the Azores are accessible only by plane, there is a regular ferry that runs between Faial and Pico, allowing travellers to easily combine the two in a single holiday.