Flores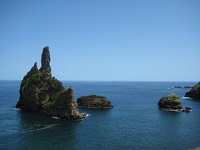 Flores © Julen Iturbe-Ormaetxe
The resort island of Flores, most northerly of the Azores group and somewhat remote from its companions, is literally the island of 'flowers'. The island blooms, carpeted with numerous flowers among impossibly green hills and white-washed villages. Considered one of the most beautiful islands in the Azores, the best time to visit Flores is in the summer, when it is covered in the bright pink and blue hydrangeas that give Flores its name.
The main features of the island to enjoy on holiday are seven serene lakes in volcanic craters and the Enxareus Grotto, a huge volcanic cave. The Águas Quentes are small hot springs of boiling sulphurous water, while the more than 20 waterfalls of Ribeira Grande, near the village of Fajãzinha, drop 984 feet (300m) into the Atlantic Ocean.
Flores' largest town, Lajes, is a picturesque fishing port set in green fields. All the island's towns and villages have historic chapels and churches while Flores also features watermills, windmills and an ethnographic museum in the town of Santa Cruz. It displays objects relating to the history of Flores, including the whaling and fishing industries, and colourful pirates.