São Jorge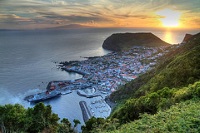 Sao Jorge © Aitor Salaberria
The resort island of São Jorge is surrounded by sheer black cliffs and is the centre of the Azores' dairy industry. The lush green grass of the island's fields plumps up the grazing cows, who in turn produce rich milk for creamy, straw-coloured wheels of cheese, weighing about 22 pounds (10kg). The cheeses are cured for several months in temperature-controlled rooms, acquiring a honey-coloured rind and piquant flavour.
Not only is São Jorge renowned for its cheeses, but the island also has exclusive rights to the delicious fleshy cockles that are caught in the waters of Caldeira de Santo Cristo.
Aside from its gastronomic delights, São Jorge offers active pursuits like dive fishing, hiking, swimming and bird watching. Villages such as Velas and Manadas possess historic buildings dating back to 1400 and offer the sleepy culture of traditional harbour towns.