Churches of Thessaloniki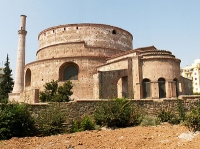 Church of the Rotonda © Daniel Tellman
Most of Thessaloniki's beautiful churches are situated along the quaint, narrow-cobbled streets of the Upper City area. They date from various eras, including Byzantine.
In particular, visitors should look out for the domed Church of Saint George. Its history goes back to the 4th century, when it was Roman Emperor Galerius' mausoleum. Agia Sofia is Thessaloniki's largest and most famous Byzantine church. The Agii Apostoli and the beautifully frescoed Agios Nikolaos Orfanos are also must-sees.
Thessaloniki's churches are open to visitors, but often close during the afternoon. For this reason, visitors should try to tour them in the morning. Also, sightseers should follow local custom when entering. Essentially, this means to dress appropriately and to act respectfully in these sacred places. Visitors should ask permission before taking photographs. Some churches will not admit sightseers during services but tourists are always welcome to attend.
Website: www.enjoythessaloniki.com/visit/byzantine-churches/