Hikes in Montserrat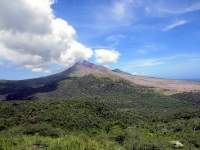 Garibaldi Hill © David Stanley
Montserrat might not be the most sophisticated of tourist destinations, lacking in creature comforts such as gourmet eateries and trendy night clubs. But what it lacks in this respect, it more than makes up for in natural bounty.
Lovers of the great outdoors will be in heaven in Montserrat, an island which is criss-crossed by hiking trails each more spectacular than the last. Most of these trails begin in the Centre Hills, and wind through areas of lush vegetation teeming with bird life. Keep an eye out for Montserrat's national bird (the Montserrat Oriole) and the national flower (the Heliconia).
For the very fit, the pick of the trails must be the Rendezvous Beach Trail, which leads from the Silver Hills past the 17th-century ruins of the first Irish settlement on the island, before a challenging climb and descent over Bantin Ghaut leads down to Rendezvous Beach, Montserrat's only white-sand beach.