Pemba Island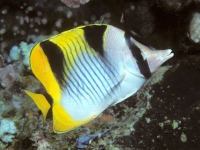 Pemba's Underwater World © Bernard E. Picton
The small and unspoilt Tanzanian island of Pemba is becoming a popular alternative for visitors seeking a quieter, less developed alternative to Zanzibar, located approximately 31 miles (50km) to the north. Pemba is known as 'the green island' in Arabic, and is one of several islands that make up the Zanzibar archipelago. The island trio consisting of Pemba, Zanzibar and Mafia is traditionally referred to as the Spice Islands.
This undulating, fertile island hosts a number of small and large scale farming enterprises. The smaller farms producing mainly rice, coconuts, bananas¸ cassava and maharagwe (red beans), while the larger farms produce cash crops such as cloves (there are over 3 million clove trees on the island!) This backdrop of cultivated countryside makes for some interesting - and fragrant - sightseeing.
As a tourist destination, Pemba offers some great dive sites with abundant marine life, untouched corals and dizzying vertical drop-offs. The towns of Chake-Chake (the capital), Mkoani and Wete have some interesting cultural and archaeological attractions influenced by the local Arab and Waswahili peoples; the island is recognised as a national centre for traditional medicine and witchcraft. There are also bullfighting events to watch, a throw-back of the island's 16th century Portuguese colonisation.
Getting to Pemba Island isn't too much of a problem - there are regular domestic flights from Zanzibar and Dar es Salaam to Pemba Airport (also referred to as Wawi or Karume Airport), located 4 miles (7km) from Chake-Chake on the east coast of the island. There are also ferries to Pemba from Zanzibar.