Interlaken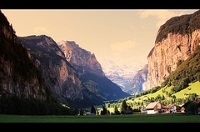 Interlaken © Vinoth Chandar
Interlaken, meaning 'between the lakes', is the tourist capital of the Bernese Oberland. As a popular holiday spot it is superbly situated between the lakes of Thun and Brienz, offering a variety of water-based activities during summer, and access to an endless amount of winter sports in the surrounding mountains of the Bernese Alps and its valleys.
Linked to numerous holiday resorts and villages by a series of mountain railways and cablecars, Interlaken has a myriad of slopes and trails in many different areas offering skiing, snowboarding and hiking, as well as connecting to the famous cog railway leading to the plateau of the Jungfrau Mountain. During winter, skiers can take advantage of the town's low prices, avoiding the in-season costs of higher altitude ski resorts.
With its many fine hotels, nightlife and dining opportunities, numerous excursion possibilities and first class transport connections, Interlaken is an ideal all-round holiday destination for both winter and summer, for skiers and non-skiers alike.