Mount Athos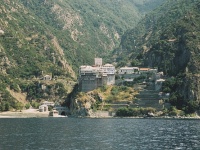 Mount Athos © makryba
Only men are welcome to make a pilgrimage to Mount Athos, the secretive 'Shangri-La' on a rugged promontory about 80 miles (129km) southeast of Thessaloniki. Here it is possible to step back in time and mingle with hundreds of monks, from more than 20 monasteries, in one of the most scenic spots in Europe. This unique, mountainous enclave on the coast is sprinkled with huge monasteries, most resembling castles, containing wonderful frescoes, mosaics and libraries. There are also smaller monasteries known as kelions attached to small churches, as well as caves on the mountain slopes where monks retreat as hermits. There are forests and pristine seashore, and beautiful gardens cared for by the monks. It is a truly astounding area to explore and there is nowhere quite like it in the world; unsurprisingly, it is a UNESCO World Heritage Site. Mount Athos is a self-governing area within Greece, and to visit it is necessary to obtain a permit from the Ministry of Foreign Affairs in Athens, or from the Ministry of Northern Greece in Thessaloniki. Women will unfortunately be unable to obtain such a permit, and the amount of visitors allowed daily is limited.
Website: www.mountathos.gr
Transport: Bus from Thessaloniki to Ierissos or Ouranoupoli and thence by Caique.