Moselle Valley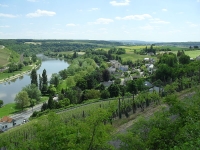 Village of Hettermillen, Moselle Valley © Christian Ries
The Moselle Valley is a region in eastern Luxembourg, promoted as a wine-growing region since the 19th century. It has developed into an important tourist industry thanks to its rural idyllic atmosphere and environment.
The Grand Duchy of Luxembourg shares with Germany the wide, navigable Moselle River, tributary of the Rhine. Along the riverbanks are vineyards that produce a wine which connoisseurs rate as among the best in Europe.
A wine tour through the quiet villages and wine cellars of the region proves a scenic and relaxing experience. The principal town of Luxembourg's Moselle wine growing region, Grevenmacher, has links to the German bank of the river by a bridge.
Grevenmacher is an old town with narrow streets, the remains of medieval fortifications, and a 13th-century belfry. The town's claim to fame is the wine cellars of Caves Bernard-Massard, housing internationally-acclaimed sparkling wines.
The cellars are open daily for tastings from April to October. There is a small museum in the town, and an exotic butterfly garden. Grevenmacher is also an embarkation point for regular scenic river cruises on the Moselle, which call at other quaint villages in the region.